The Keencut Javelin-Integra range of precision cutter bars is designed to exceed the most demanding standards of accuracy. Javelin-Integra incorporates the unique design of the Javelin-Series 2 which allows Keencut technicians to factory adjust for straightness, using laser technology, to within 0.2mm over the 3.1 metre length of the cutter bar (1:15000).
The Javelin-Integra features a mounted Javelin-Series 2 with integral Lift & Hold Levers on an Aluminium Base Plate. Javelin-Integra can be attached to an existing work table or a Keencut Proteus Bench to create a complete cutting station in your workshop.
The Javelin-Integra is supplied with three Vertical Blade Holders for optimum versatility enabling the operator to cut a wide range of materials up to an impressive thickness of 13mm. The patented linear bearings have been tested under load for 1600km (1000 miles) and carry a 20 year replacement guarantee. Three full length silicon rubber grip strips on the cutter bar and base plate ensure all work is clamped when cutting and also protect the surface of the material being cut.
The Keencut Javelin-Integra is ideal for cutting PVC Foamboard – Vinyl – Woven Fabrics – Foam Centred Board – Honeycomb & Corrugated Plastics – Film – Paper – Tissue and many more flexible and rigid materials.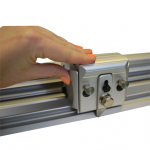 Vertical Cutting Action
Engage all blades on the Vertical Cutting Head using downward hand pressure
Patented space age bearing and slide system designed for operator adjustment and minimal maintenance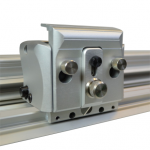 Graphik Blade Holder included as standard
Accepts Keencut Graphik Blades designed specifically for the Signmaker and Digital Printer:
Specially designed knife edge for extra stability in tougher materials
Extend cutting depth up to 13mm
Reversible - Set the blade to cut Left-Right or Right-Left
Increased durability and reduced tip breakage
Hard wearing & Oil-free
25 Graphik Blades included with each machine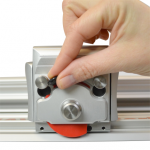 Rotary Blade Holder included as standard
Cold cut textiles and other delicate materials
Ideal for trimming thin strips off banners and posters where a knife blade would be too aggressive
Comes fitted with red blade guard to be engaged when not in use for optimum safety
A cutting mat is required (not supplied) when using the Rotary Blade Holder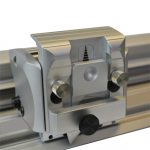 Medium Duty Blade Holder Included as standard
Use standard off-the-shelf utility blades
Adjust to a blade depth of 10mm
Each machine is supplied with a pack of 100 Medium Duty Utility Blades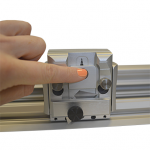 Blade Depth Adjuster
Both the Medium Duty Blade Holder and Graphik Blade Holder feature quick height adjustment sliders
Adjust the blade depth on the Medium Duty blade up to 10mm cutting depth
Adjust the blade depth on the Graphik blade up to 13mm cutting depth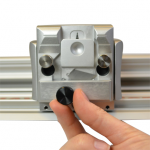 Blade Clamp
All blade holders come with a single 'blade clamp knob' for quick adjustment
A quick turn and the blade is unclamped for removal or adjusting cutting depth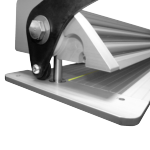 Unique features of the Javelin Integra
3-Piece Base plate with integrated silicon strip to hold materials securely while clamped
Lift-&-Hold System is perfectly balanced for ease of use
Integral baseplate comes with full-length cutting groove for use with the Medium Duty Blade and Graphik Blade
Base has angled rear edge for easy loading of material
| | |
| --- | --- |
| SKU | JIT310 |
| EAN | No |
| Specification | No |
| Manufacturer | Keencut |