There are many kinds of different paper finishes, meaning that when you're new to printing your photos, it can take some time to understand them all – and that's before you even consider other paper terms!
The paper your photograph is printed on is a key factor in getting a great print, so having knowledge of different paper finishes, what your paper is made from, and what elements of your photograph your paper will highlight makes a huge difference to your printed image.
With this in mind, we've compiled a guide to the key terms you should be familiar with when you're buying new papers.
Cast coated vs Micro and Nano Pore Receiving Layers
The receiving layer is the technology used to receive the ink onto your paper. In simple terms, the receiving layer is a thin layer of a translucent chemical, and this is what determines the paper quality.
A cast coated receiving layer is usually found on cheaper or every-day papers. There isn't a barrier on cast coated paper, meaning the ink sinks deeper into the paper and fades quicker. However, they are instant dry, which limits the risk of smudges, but works best with dye-inks rather than pigment inks. Papers with Micro and Nano pore receiving layers are more commonly used in professional and more expensive photo paper. Rather than sinking into the paper, ink sits in the pores in the chemical coating, improving the paper's archival quality.
 Matte paper vs. Glossy paper
These are probably the most straightforward terms in our glossary, but are worth reminding yourself of. The difference between glossy and matte papers depends specifically on the kind of coating – the base paper might be the same, but the coating on the top layer creates the difference.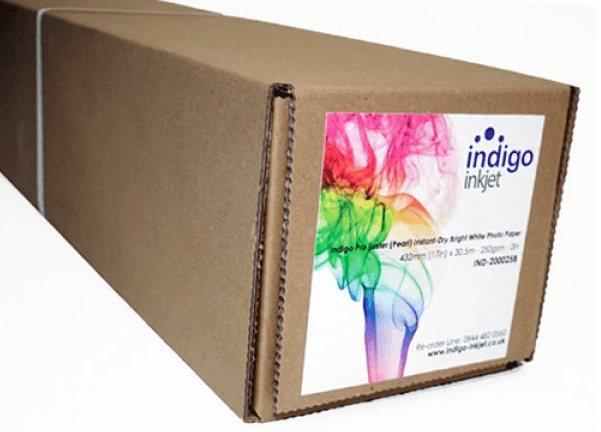 Matte paper has a textured surface, which works to reduce glare on your printed image. This makes matte papers ideal for display as they can be seen easily in bright light. Glossy paper has a smooth surface because of the kind of chemical coating on the paper. Unlike a matte finish, glossy paper is highly reflective, so the conditions in which a glossy print is displayed must be carefully considered, particularly in regards to lighting conditions. Matte papers can also be handled more because the textured surface makes it harder for fingerprint smudges to be transferred to the print, whereas fingerprints are likely to show up on glossy prints.
Because of the way matte papers absorb ink, they're often considered to provide less detail. However, this will vary from paper to paper, depending on how textured it is, so it is possible to achieve a detailed image with the right matte paper. Glossy papers, on the other hand, tend to have a wide colour range and offer deeper blacks, meaning you will see more details in your print.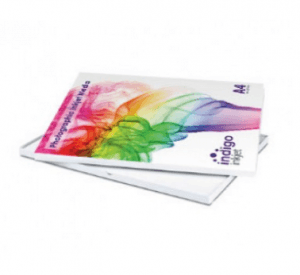 Semi-Gloss paper
Semi-Gloss papers are best described as falling between matte and glossy papers. They tend to have texture, but less so than a matte paper, meaning they offer a reduced glare. However, they also offer a wider colour range, like glossy papers do. This makes Semi-Gloss papers popular for a variety of uses. Kinds of Semi-Gloss finishes include pearl, lustre, or satin.
Canvas style
Canvas paper is often a blend of polyester and cotton, and is designed to be used with an inkjet printer. Canvas is particularly durable and can accommodate lower quality images that might not be good enough to print on photo paper. However, like photo paper, canvas can come in a variety of finishes that will affect the look of your image. These include glossy or satin finishes for a sharp, professional look. 100% cotton canvas is usually coated with a high-res inkjet coating to prevent bleeding and provide bold colours. Find out more about printing on canvas here.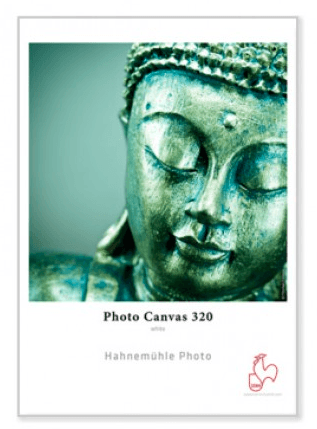 Alpha-cellulose paper
Alpha-cellulose refers to the content of high-grade long fibres and wood pulp in the paper. 100% alpha-cellulose paper has been purified of any undesirable elements such as acid and lignin (a constituent of the cell walls belonging to organic matter). Removing these prevents the yellowing of the paper and ensures it has a great archival quality.
Cotton fibre paper
Sometimes called cotton rag, this is a fine art paper made of cotton linters rather than wood fibres. Cotton paper is extremely durable, has great archival qualities, and is less likely to discolour than papers made from wood pulp due to the lack of acid. Cotton paper also offers particularly good colour.
Remember, there can be lots of variation between paper types based on brand and paper type – not all glossy papers offer the same detail, not all matte papers have the same amount of texturing, and not all alpha-cellulose papers are 100% acid-free.
Besides the different paper finishes available, there are lots of other elements to consider when choosing the right paper for your print. In this blog, we look at what other paper characteristics will make a difference to your print, including  paper thickness, opacity, and colour brilliance.
If you're looking for a way to get the most out of your prints, why not browse our collection of papers, get in touch with our print specialists, or chat to one of our agents online?