Printing your photographs yourself has many benefits. Whether you're just getting started in photography, or you're a professional photographer that outsources print or sells more digital files, here are 5 reasons why you should start printing your photos yourself.
You're in charge of the finer details
It's frustrating when you send a photo to be printed and it comes back not quite right. Whether it's the colours aren't what you expected, or you're not happy with the way the photograph has been cropped, leaving your photos in the hands of someone else means you're not sure what you're going to get back. When you print your photos yourself, you're in control. For example, investing in products to help you in your colour management is an easy way to know that the photo you took is the photo you're going to get in print.

Your hard work will pay off
As a professional photographer, printing your own photos means that your hard work pays off – the end results will invariably be of the fantastic quality you pictured when you were shooting. Selling a print to a customer also means that your work is likely to stand the test of time and be seen, rather than sitting on someone's laptop, or worse, printed off by a customer who doesn't know what they're doing. Printing your own photos will help improve the artwork that has your name on it, and ultimately help your reputation as a result.
It can save you time and money
Printing yourself can often be cheaper, depending on what you want to achieve with your prints. For beginners or amateurs, buying paper and inks that you're likely to get good use out of it might be more cost effective rather than paying a print shop for each individual order. Even better, printing yourself saves you a journey into town or waiting for your print to arrive in the post. As a professional photographer, your print being immediately available is even more crucial – you can tweak your photos right there and then until they're perfect. If you only send out digital files, you're leaving a lot of money on the table – your clients could be taking their business elsewhere.
The paper is in your hands
Different kinds of shots look good on different kinds of paper – it all depends on what look you want to achieve. For example, glossy papers will give more of a contrast and can make your image look extra sharp, whereas matte papers tend to give a softer image as well as displaying textures that might get lost in a glossy print. The best way to find out what kind of paper your shot will look good on is to test different finishes out. Again, you can do this at home again and again until you get the right finish.
There's a lot of choice – find what's right for you
The range of printers available means that you can easily find one that suits the kind of printing you need to do, without finding a print shop that caters to your specific needs. If you want to print mostly photo posters or panoramas, then you can purchase a printer that is right for your needs. For example, this Epson Surecolor SC-P800 can sit on your desktop, but also comes with an optional roll paper adapter, ideal for canvas and prints up to 10ft – perfect if you photograph panoramas and want to print at home. If you're making money off your photos, then purchasing a large format printer to sell your prints might be a good investment.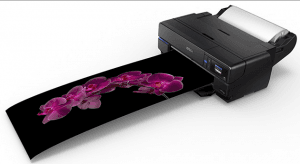 If you're looking for the right printer or materials to print your photographs at home, why not get in touch with DPSB or chat to one of our agents online?